The center of Tropical Storm Ida is currently located near Jackson, MS with maximum wind speeds of 30 MPH. The Tropical Storm Warnings/Storm Surge Warnings are set to expire at 12:30pm. Ida wrecked havoc on New Orleans and knocked out power to 100% of the city, according to Entergy. For an update on restoration from Entergy, see this article:
Closer to home, we are expected to start feeling the impacts from Ida tonight. Wind Advisories and Flash Flood Watches are up for almost our entire Coverage Area: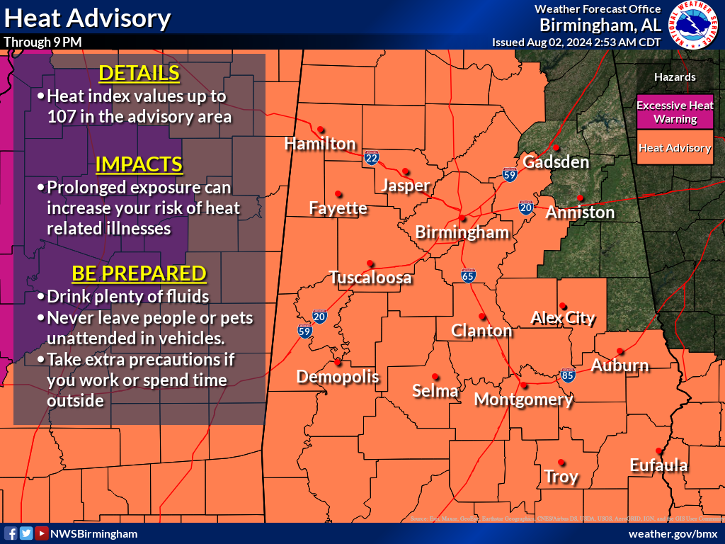 RAINFALL: The biggest story of any Tropical System is the rainfall. We're looking to receive anywhere from 4-6″ on the western half of the state, and 2-4″ elsewhere. Flash flooding will also be a concern in some areas that receive repeated heavy rainfall.
WINDS: Will begin to pick up as Ida nears. Currently the forecast is for 30+ MPH winds with gusts up to 40. Winds could be felt as early as 8:00 PM Monday for west/northwest Alabama. Winds of this magnitude can easily topple over trees and power lines. Trees with saturated ground could fall more easily.
TORNADOES: With any tropical system – especially on the outer edge of the system – there is the potential for tornadoes. Any tornadoes that do develop will be brief and weak (70+ MPH winds)
Please stay weather aware during this time. Heed all Warnings and have multiple ways to receive them.