Lunchtime Update On Severe Weather
As we approach the lunchtime, many folks want to know what to expect this afternoon and evening in regards to severe weather.
There have been many peaks of sunshine throughout the Tennessee Valley after this morning round of showers (and a few thunderstorms). This has lead to increased instability over the past couple of hours. Thunderstorms are al ready ongoing across northeast Mississippi, in fact this one near Ripley/Jumpertown is producing half-dollar size hail:
The 11:30 convective outlook update puts northern, central Alabama and southern-middle Tennessee under a Moderate Risk. This indicates the is the potential for stronger tornadoes and very large hail.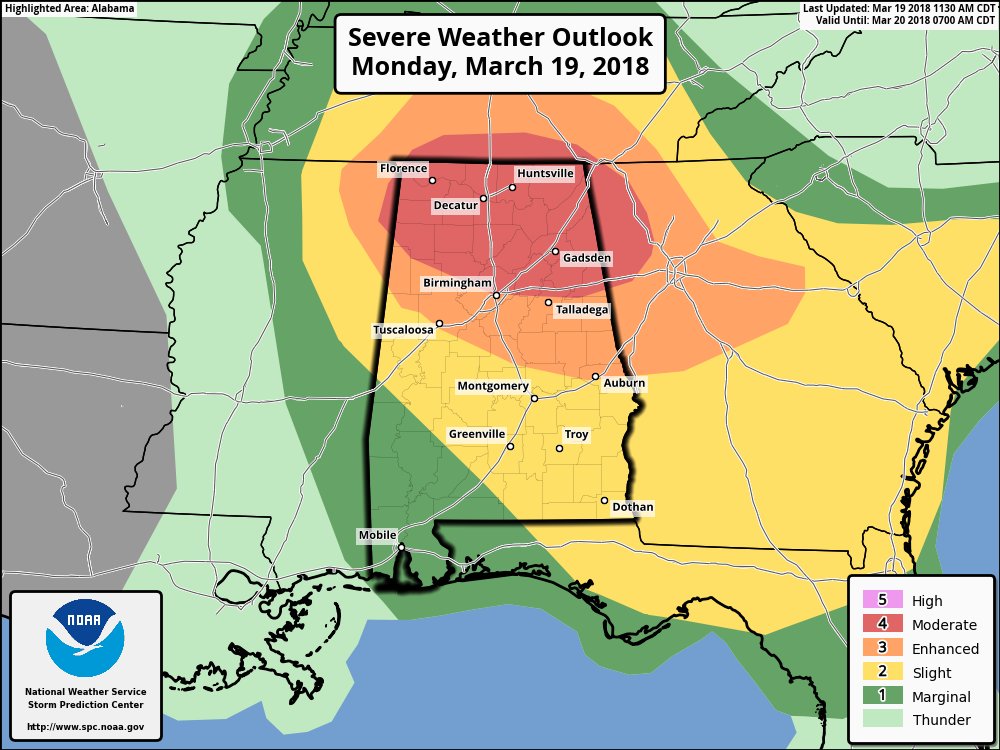 WHAT TO KNOW
WHEN WILL THINGS GET STARTED: The atmosphere is primed to get things fired up between 3:00 and 4:00 this afternoon.
WHAT TO EXPECT: Thunderstorms will come in a supercellular line. Any isolated supercell will have the potential to produce a stronger, long-tracked tornado. In addition to this, 2 inch diamater hail is likely.
WHEN WILL THE THREAT END? The severe weather threat will end from west to east as the line passes.
HOW TO PREPARE
NUMBER 1: Have multiple ways to receive Warnings. A weather radio is number 1, then perhaps internet and TV sources. Alabama Weather Prediction looks to be your number 1 Internet source but we are not the Weather Service.
NUMBER 2: HAVE A PLAN- Of course don't be outside on a day like today. Stay indoors and keep an eye on things.
RECEIVE OUR UPDATES: We push out as many updates as we can on our Live Page, and we recently just announced we will even push out updates to those that wish to receive them on Messenger. We will be testing this in action today once the event starts.
Stay safe and stay aware today. I hope to begin coverage as soon as I get off work at 4:00.